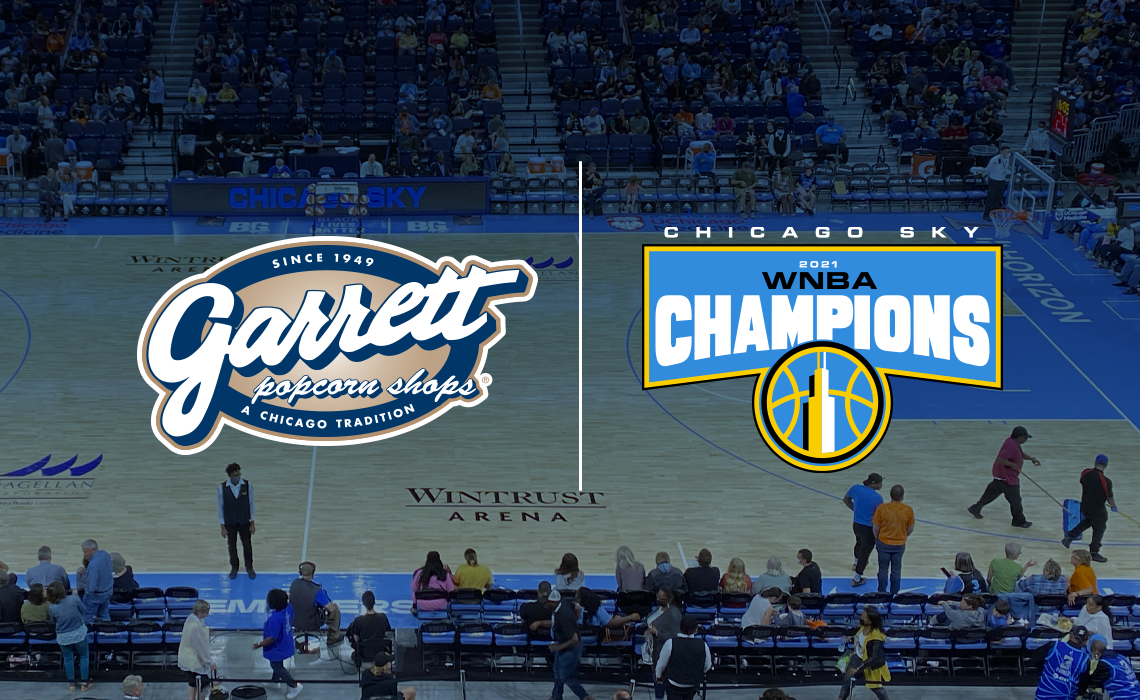 Kicking off with the Sky Community Ticket Zone to Give Chicago Youth Access to Live Sports Experience
(CHICAGO, June 6, 2022) -- Garrett Popcorn Shops® is proud to announce they are the new Official Gourmet Popcorn of the WNBA Champions - Chicago Sky.
Their respective social impact programs, Garrett CaresTM and The Chicago Sky Cares Foundation, will partner to give underserved community youth groups an MVP-style gameday experience throughout the season in the newly branded Sky Community Ticket Zone. These special outings will include complimentary transportation, game tickets, meal vouchers, and, of course, bags of Garrett Popcorn to enjoy while watching the Champions in action at Wintrust Arena.
"Garrett supports this team of world-class athletes, who share in our commitment to help lift our community," says Megan Chody, owner of Garrett Popcorn Shops. "By creating real world experiences with lasting memories, kids are inspired and empowered to succeed, on or off the court."
"The Chicago Sky are proud to welcome Garrett Popcorn Shops to our lineup of world class partners who align so well with our goals and values," says Adam Fox, team president and CEO. "We look forward to working with them both in the community and at the arena, where we are excited to begin offering Garrett Popcorn at our concession stands."
Garrett is also thrilled to recognize each Chicago Sky Player of the Game with a tin of Garrett Popcorn at the end of each game.
Garrett Popcorn Shops welcomes Wintrust Arena to its portfolio of arenas and stadiums – including the United Center, Wrigley Field and Guaranteed Rate Field – where fans can enjoy their famous recipes such as Garrett Mix®, the original Chicago-style popcorn.
For information about Garrett Popcorn Shops and Garrett Cares, visit www.garrettpopcorn.com.
For information about the Chicago Sky, visit https://sky.wnba.com.
###
Garrett Brands Media Contact: Michelle Molise, 313-549-3137
Chicago Sky Media Contact: Kelly Kane, 312-994-5984