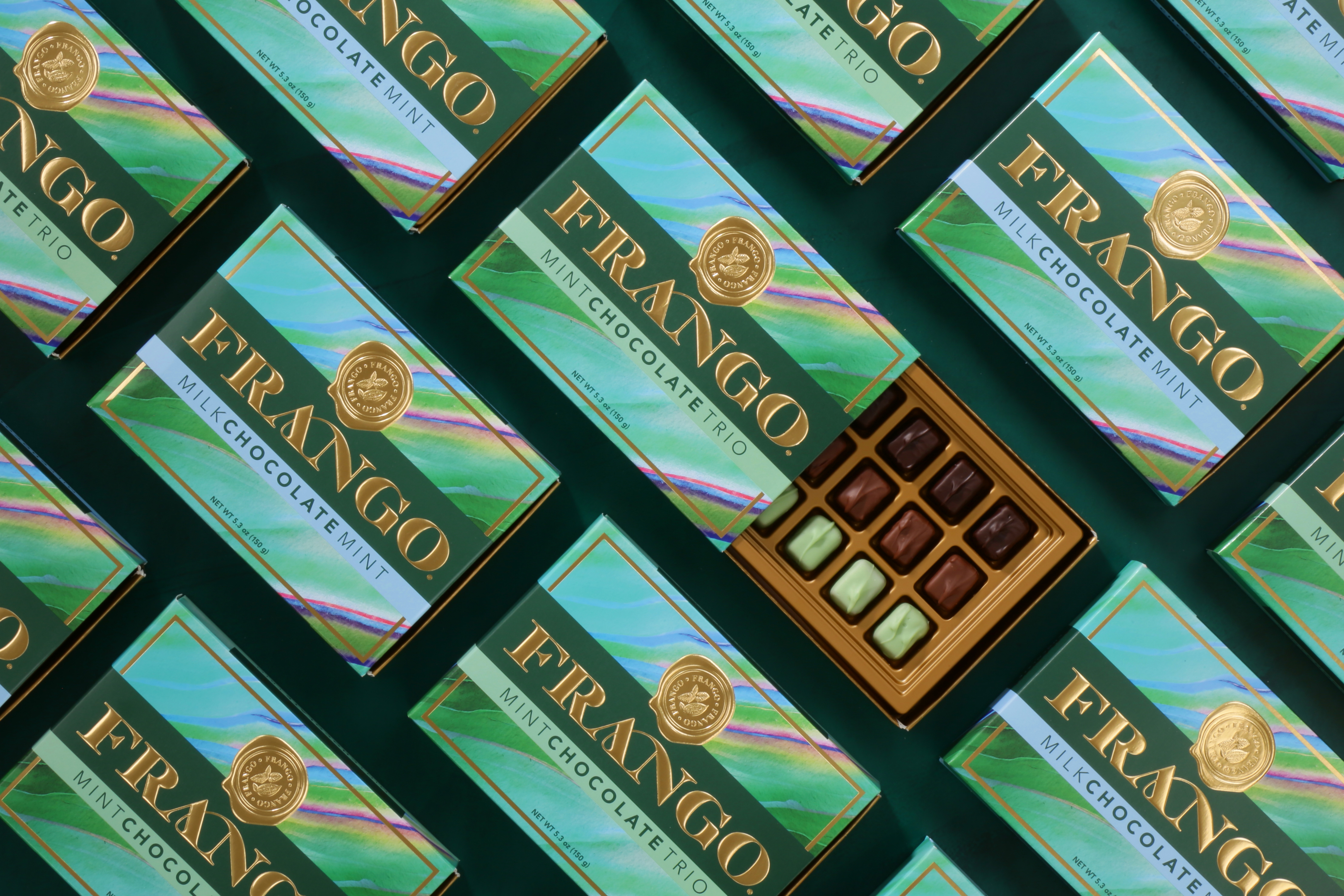 Introducing a New Ready-to-Gift, Colorful Marble Design Box Featuring Iconic Mint Chocolate Recipes Perfected for Over a Century
(CHICAGO, October 2, 2023) – Ahead of the holidays, Frango® Chocolate unveils NEW packaging for its beloved recipes of Milk Chocolate Mint and Mint Chocolate Trio (a variety box of milk-, dark-, and white chocolate mint.)
Perfect for gifting or enjoying oneself, Frango Chocolate is artisanally crafted and made with the highest quality ingredients, including rich milk chocolate and fine peppermint oil- a timeless holiday combination- to create the perfect balance of chocolate and mint in each bite.
Frango celebrates over a century of holiday tradition, from its creation in 1918 in a Seattle department store on Pine Street, to its introduction on Chicago's State Street in 1929. Now family-owned by Garrett Brands - which also owns Chicago holiday destination Garrett Popcorn Shops® - Frango Chocolate continues to capture hearts from the Emerald City to the Windy City and beyond.
With a new custom marble design, embossed gold logo and seal, and grounded by the brand's historic dark green color, this new packaging honors Frango's heritage while bringing the specialness of the brand forward to meet the needs of fans today with the same recipe.
"We were inspired by stories from our fans about their cherished Frango memories," says Director of Marketing, Lindsay Alberti. "It was important to us that this new look revitalize the specialness of this iconic brand."
These special, new Frango boxes are available ONLY in select Garrett Popcorn Shops and on GarrettPopcorn.com/Frango-Chocolate; or bundle it with another iconic treat, a tin of Garrett Mix from Garrett Popcorn Shops.
###
Media Contact: Michelle Molise, Garrett Brands (Garrett Popcorn Shops and Frango Chocolate), 313-549-3137 cell, mmolise@molisepr.com.