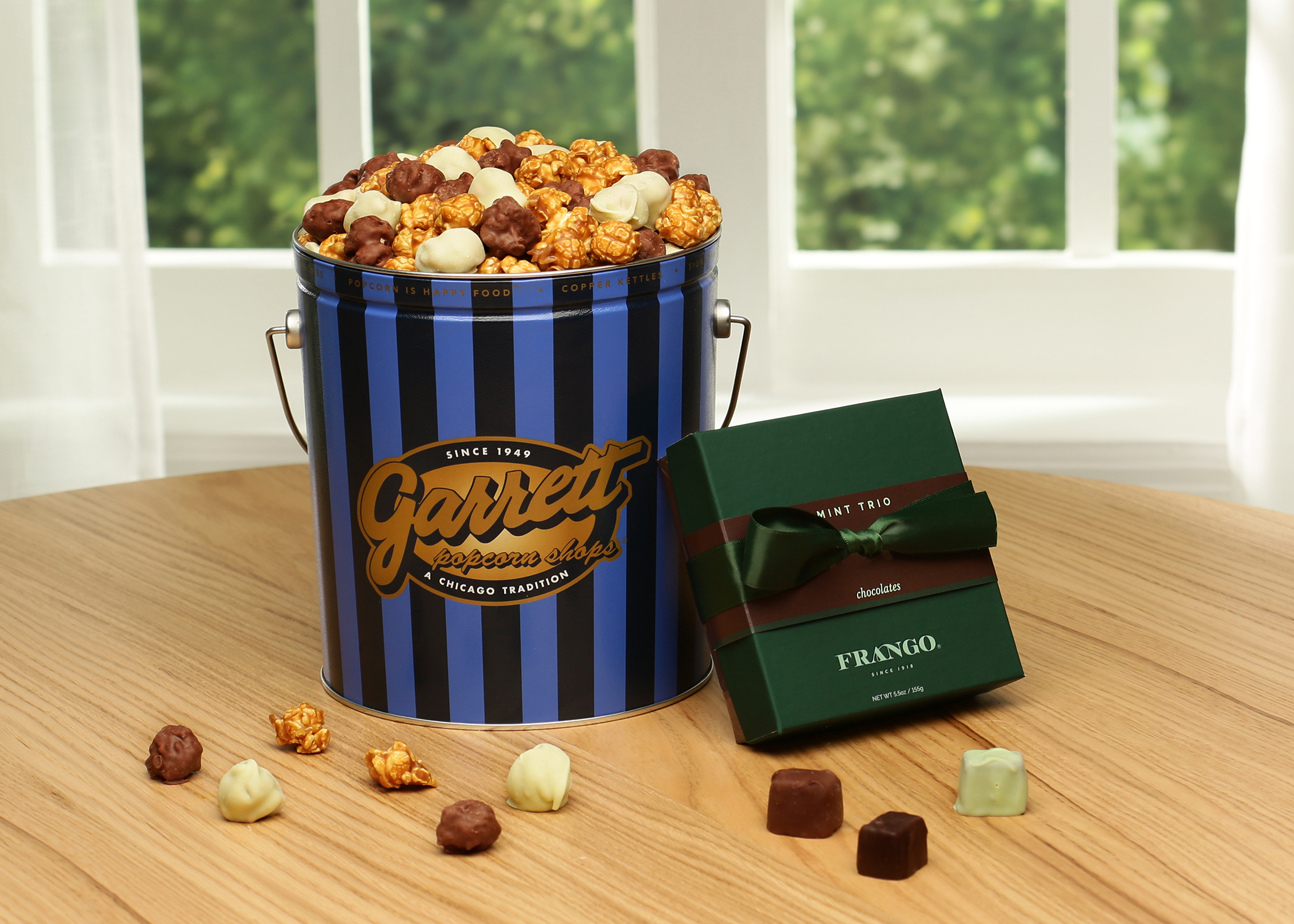 Mint Chocolate Lover's Bundle, available for a limited time, starting March 10, 2023.
Garrett Popcorn Shops® Launches NEW Frango® Chocolate Mint CaramelCrisp® Mix

In Time for St. Patrick's Day Festivities
Chicago (March 2023) – Chicago-based, family company Garrett Brands, owner of Garrett Popcorn Shops® and Frango® Chocolate, has brought together these two iconic treats to launch their newest recipe, Frango® Chocolate Mint CaramelCrisp® Mix.
The premium, artisanal chocolate brand Frango has perfected their delicious confections for over 100 years, starting in Seattle and expanding to Chicago's legendary department store Marshall Field's on State Street. Gourmet popcorn brand Garrett Popcorn Shops celebrates over seven decades since first opening their doors in Chicago in 1949, using secret family recipes.
The NEW, limited-batch recipe will be available starting Friday, March 10 just in time for the Windy City's St. Patrick's Day festivities. Fans may order this delicious mix ONLY at GarrettPopcorn.com, the Magnificent Mile flagship Garrett Shop at 625 N. Michigan Ave. in Chicago, and the Garrett Shop at Woodfield Mall in Schaumburg, Ill. The spring recipe is only available through mid-May or while supplies last.
Frango Chocolate Mint CaramelCrisp Mix is a perfect balance of chocolate and mint covered Garrett Popcorn. Garrett CaramelCrisp is handcrafted in a small-batch copper kettle, then coated in milk and white chocolate, blended with Frango mint oil. The mint chocolate kernels are then mixed with traditional CaramelCrisp. A Classic tin size is $40.
"Whenever I spend time in our Shops, I ask our fans to share their fondest family memories of visiting downtown Chicago," says Garrett Brands owner Megan Chody. "Time and again, the responses include picking up a box of Frango, and then walking over to wait in line at one of our Garrett Shops. Our new recipe is a delicious tribute to our fans, and a refreshing twist to both beloved recipes."
Springtime Gift Bundles
Perfect for gifting and spring gatherings, bundles include the Mint Chocolate Lover's Bundle, a Classic size tin of Frango Chocolate Mint CaramelCrisp Mix paired with a luxe gift box of 16-piece Frango Milk Mint or Mint Trio (milk chocolate mint, dark chocolate mint and white chocolate mint pieces), $55 (regular price) only at GarrettPopcorn.com.
For more information and to purchase Garrett Popcorn and Frango Chocolate, visit www.GarrettPopcorn.com. Follow on Instagram: @FrangoChocolate and @GarrettPopcorn.