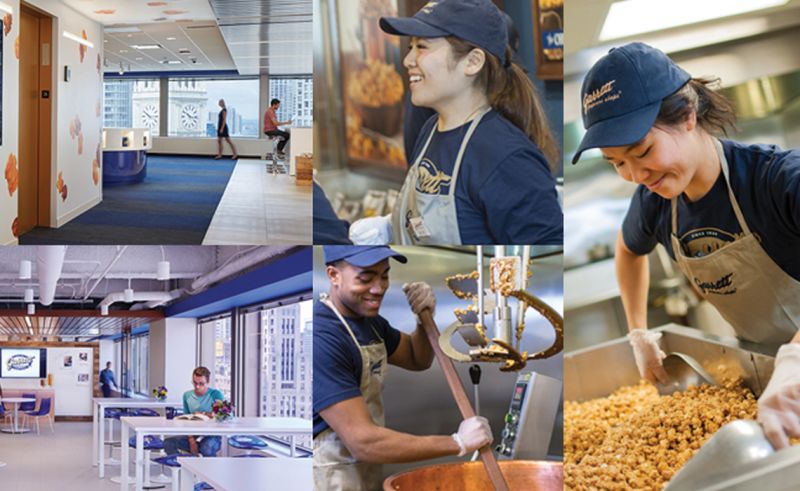 Working at Garrett
Thank you for your interest in joining Garrett Brands, the proud company behind the iconic Garrett Popcorn Shops® and Frango®. Whether you enjoy working in front of guests, behind the scenes or at our offices, Garrett Brands provides a great opportunity to be part of handcrafted traditions, community legacy, and worldwide fan-centricity. We are committed to our team, to creating an unparalleled customer experience, and to developing leadership from within.
---
Our Values
Excellence.
We have defined ourselves by utmost attention to quality since 1949. When we do something, we do it with precision and care. We hold ourselves to the highest level of integrity and the responsibility it entails.
Belonging.
We belong to each other and to our fans. We care deeply about the communities around us and work to better them by becoming an integral part.
Curiosity.
We are forever curious and are explorers of the world around us. There is wonderment and innovation in discovery, and we are not afraid to get our hands dirty to find it.
Celebration.
We know how to have fun and create moments of delight. We love to celebrate all the moments that matter, whether they be big or small.
Gratitude.
We are humbled by and grateful for those we have in our lives. We would not be where we are today if not for the amazing people that helped get us there.
---
We stand for the best of family traditions, handed across generations. We treasure the moments of joy and celebration. We love to celebrate all the moments that matter, whether they be big or small. Join the Garrett Team