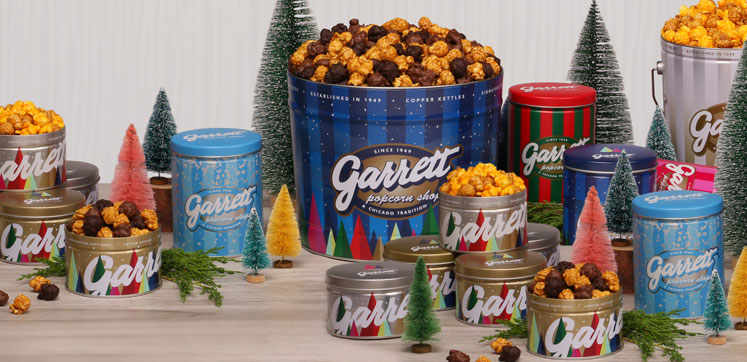 We are so grateful for our fans' support as the pandemic continues to impact businesses big and small. Everyone on the team is humbled to be part of your holiday traditions. This year has proven to be unpredictable, so we've taken several steps and prepared a list of useful tips to help minimize the stress and maximize the holiday fun. And, we are now cooking 24/7 in our kitchen (with lots of social distancing) to ensure your holiday orders are cooked and shipped within hours
---
Best Time to Order
Due to COVID-19, we made changes to our kitchen to ensure the safety of our team. Please have patience with us as there might be small delays in getting your order out the door to UPS. Rest assured that we're cooking gourmet popcorn on the same day that it ships to you. And although the holidays may be a little different this year, winter weather is the same. Be sure to track your package here or at UPS.com so you can see if ice or snow has impacted your delivery.
UPS publishes dates to help you plan for gifts to arrive in time for Christmas. So, we want to share these dates below to keep in mind.
December 15: UPS Ground Shipping Deadline
December 22: 2nd Day Air Deadline
December 23: Next Day Air Deadline
December 24-25: Garrett kitchen is closed*
We typically cook and ship your order on the business day after it was received. If you'd like us to hold on cooking and shipping your order, you can request an alternate ship date with our team at 888-476-7267. Please keep in mind that UPS only picks up from Garrett on weekdays, and UPS Ground does not guarantee weekend or holiday delivery. Limited time offers and recipes may not be available to ship beyond the promotional window.
*We close our kitchens so our team members can enjoy the holidays at home with loved ones.
Check Your List Twice
Don't forget! Many people are working from home this season. Make sure you're sending the gift to their home address.
Track Your Delivery
We made updates to our website so customers can more easily track orders. We've also upgraded our order status emails to keep you informed every step of the way. Please refer to your shipping confirmation email for the most accurate information about your ship date and for your tracking information with UPS.
Enjoy Garrett Popcorn
For best quality, we recommend enjoying our freshly made recipes as soon as possible because they are made without preservatives. Sealed tins, when stored away from heat and humidity, keep kernels fresh longer, but we recommend snacking that will empty the tin in two weeks.
Need Help?
Pop into LiveChat online. Give us a ring at 888-476-7267. Send us a message here. Our team of seasoned gift givers is happy to help you check off everyone on your list with a gourmet treat. And if you have a long list with a budget in mind, our Corporate Sales Team is here for you. When you call 888-476-7267, select option #1 then option #2. We're all people here. No robots.