Halloween looks a little different this year, so we wanted to surprise fans with treats instead of tricks. Since we are 71 years young, the Garrett team decided that 71 was the magic number of fans who would win tins of Garrett Mix® ($100 value) to share with family, friends, and neighbors.
---
In Shops
On Halloween, 50 lucky fans will get a chance to instantly win! Stop by select Shops and you could be the lucky winner of eight Petite tins of Garrett Mix® ($100 value)! See Terms & Conditions
Online (ended 10/11/20)
Ahead of the spooky holiday, we asked fans for nominations and we were blown away! Many entries had heartwarming stories that we just could not keep to ourselves. Read some of the stories from our 21 winners below.
"She [Shanda F.] inspires me because as a breast cancer survivor, she showed me just how strong, courageous and resilient she is."
- Janice P.
"He [Steven M.] has pushed me out of my comfort zone to try new things, shown me such love and compassion, and fully supported me during my emotional roller coaster of moving across country - and away from Garrett Popcorn - to further our relationship. I don't know if a better way to show him thanks than with his favorite popcorn!"
- Traci L.
"I nominate Johnnie B. to win! She is 72yrs young & still works full time & volunteers full time with multiple charities to help low-income families file their taxes, get food, pay bills, or whatever they might need - NEVER thinking of her own safety & well-being! She is kind, caring, generous, intelligent, and so sweet, she DESERVES a nice treat!!"
- Nicole U.
We were so inspired that we personally delivered some of the prizes!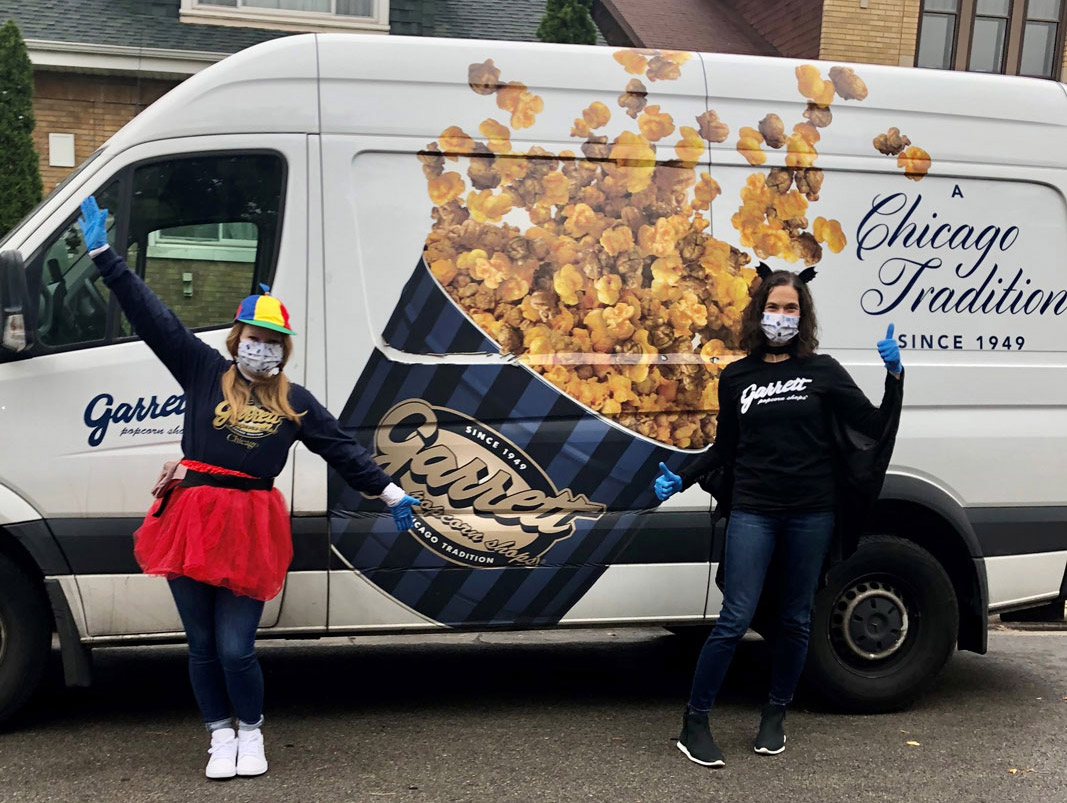 "I'd like to nominate my daughter, Kaitlyn M. for your contest!! How exciting that this contest exists! She just told me, this last weekend, that for her birthday (Nov. 9th) all she wanted was a container of your Garrett Mix!! Coincidence? No, she's your (my) true winner!!"
- Kathryn M.
"I would love to nominate Virginia C. She is a hard working nurse and mother of three children. Virginia has been working ten hour shifts with Covid-19 patients at local hospital."
- Rachal P.
"I would like to nominate my mom, Lori C. She worked as a high school social studies teacher before I was born, then homeschooled me through high school. When I started college she went back to traditional school and is now an elementary school reading teacher. She helps kids who need extra help with their reading skills, but also encourages them to do their best. She is just an all-around fantastic person."
- Joshua C.
"I nominate Eric R. for always inspiring me to be more patient."
- Lolitta R.
"I would love to nominate my 83 years young mother, Roberta P. She gets up each and every day with a smile on her face and determination in her heart. She purchases items from the grocery store to donate to the homeless each year at Christmas time. She has what she calls CHRISTMAS BINGO all year long. She buys blankets, coffee makers, etc., wraps them all up and they become prizes at seniors at the local senior center. She has done this for over a decade now!! One other thing I admire is, each Black Friday, she has ME, lol, purchase 60 poinsettias that she then donates to seniors to bring a little Christmas cheer to them. She is one of a kind, and I doubt there is anyone that deserves some great popcorn more than she does."
- Jim P.
We have the best fans!
---