Concierge / Hands-On Service
We have a dedicated team standing by to assist you with orders for larger events and gift lists. We help you understand all the options available, and work to make this the easiest item on your "to do" list before the big day. See below for some of the benefits of working with Garrett.
One-On-One Service
A Garrett Sales team member can assist you with every step of the ordering process, from finding the best gift that fits your budget to determining the best shipping options for your needs. At every point of the process, you can rely on us to handle the details.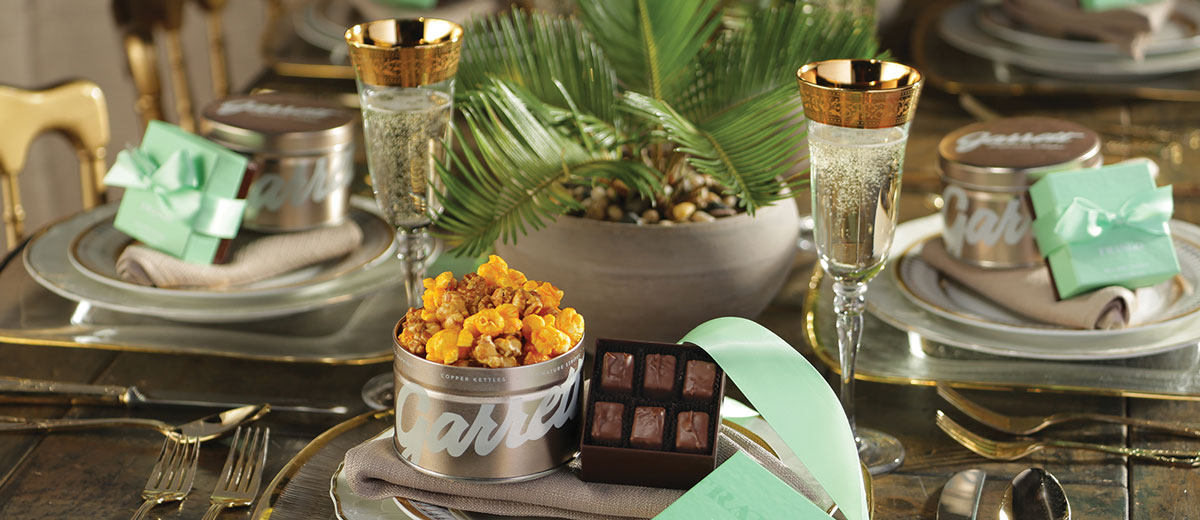 Match The Occasion
From board meetings to birthday parties, Garrett has options to match your occasion.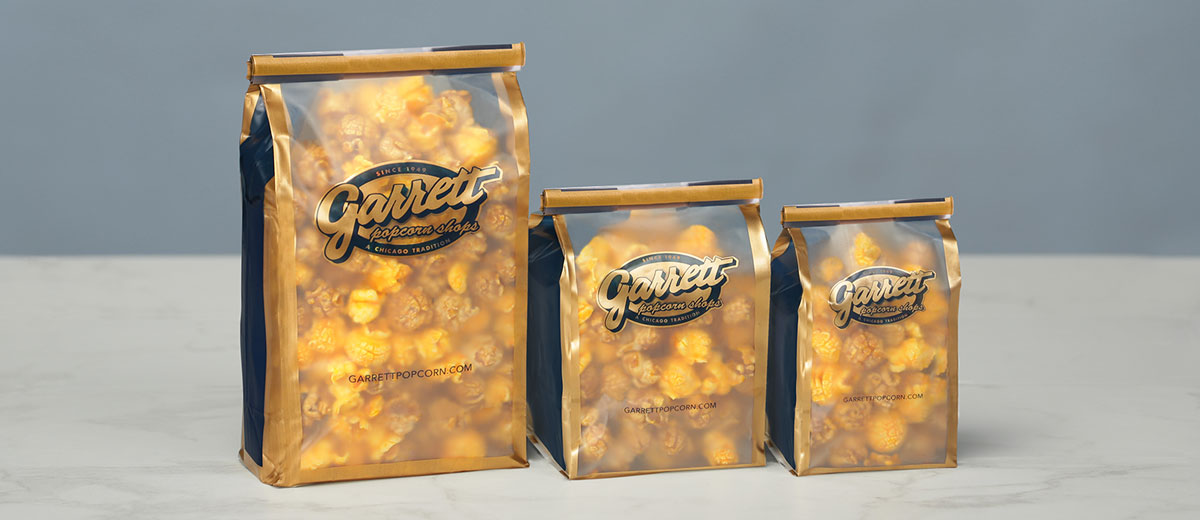 Any Budget
Contact a member of our Sales team to discuss options at any budget, including volume & non-profit pricing
Expanded Delivery Options
Garrett can ship to any number of addresses across the US as part of a single order. Our website accommodates orders with up to 50 delivery addresses, but we can help you do it even more simply over the phone. We also offer third-party delivery services in the Chicagoland area. Please contact a sales team-member to discuss rates & restrictions.
---
Personalize Your Event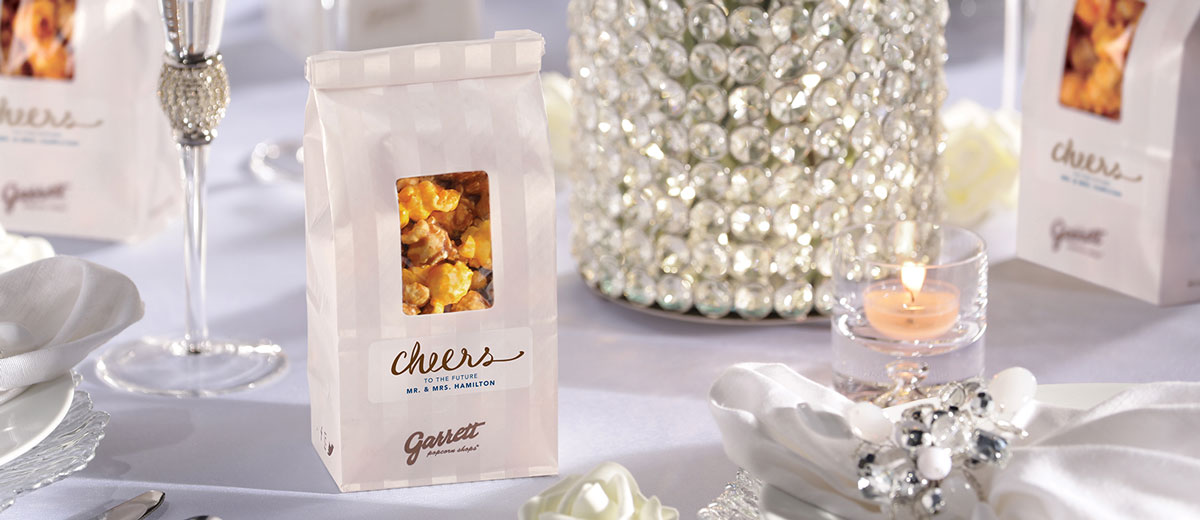 Bag Customization Options
Each of our event bag sizes can be personalized with a message or logo, starting at $0.50 a bag.
Elevate your special event with a custom bag decal commemorating the big day.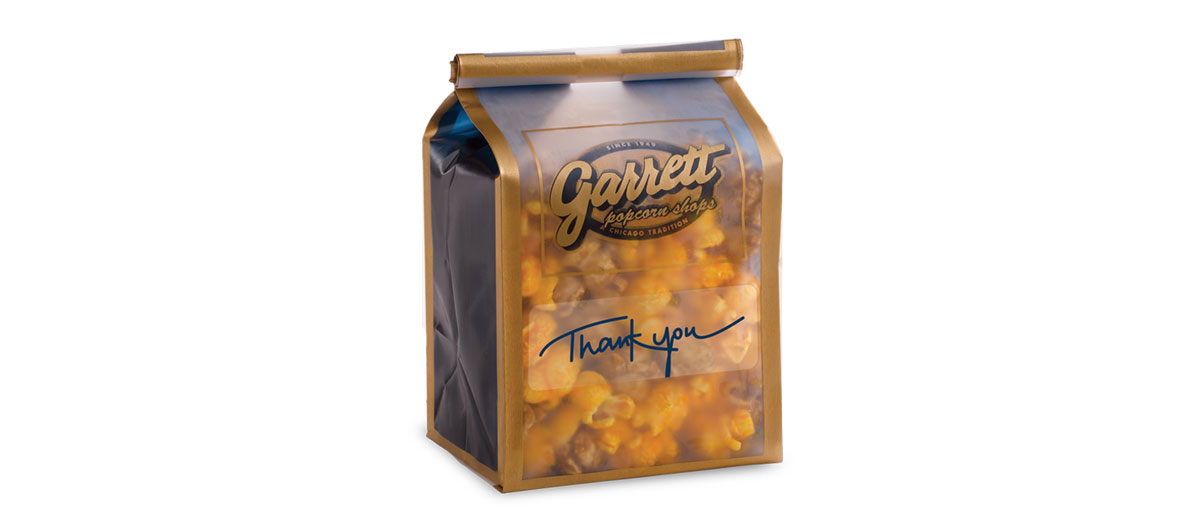 Lid Decals
Make your gift unforgettable with a custom lid decal featuring your favorite image or company's logo. Additional charges & restrictions apply, contact our sales team for details.
Tin Designs
Starting from scratch, we can design an entire tin with you for an entirely unique gifting option. Contact one of our sales team members to discuss lead times & order minimums.
Digital Gift Cards
The gift that fits all. Send a digital gift card for use at garrettpopcorn.com to let them know how much you care.
---
Policies | At A Glance
Minimum Order Quantities: Our kitchens are staffed with real people, so minimum order quantities do exist for all custom packaging options. Please contact a sales team member to discuss order quantities for your specific needs.
Order Lead Times: Most orders can be completed within 3 business days. All orders are cooked on the day we ship / deliver.
Payment Options: Contact us if you'd like to discuss additional payment options available for your business.
Refunds & Returns: Garrett Popcorn is a perishable food item. Therefore, we cannot accept returns. For refund questions, please contact a sales team member at 888-4-POPCORN.
Contact Info: Call 888-476-7267 and select option #1 then option #2 or send us an email here.